Announcements
Announcements and Events, 11/24/2017
November 24, 2017
LuFest 2018 – Discounted Hotel Rooms Available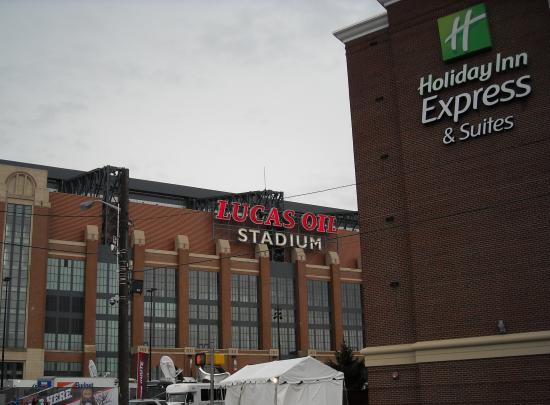 A limited block of rooms has been reserved at the Holiday Inn Express just across Missouri Street from Lucas Oil Stadium. To book at the discounted rate of $109 (plus tax and fees), LuFest attendees may call 317-822-6400 and ask for Lutheran High School or LuFest. They may also book online using this link: LuFest 2018.
Tickets for LuFest ($125 each, $1250 for a table of 10) may be purchased securely online here with credit or debit card, or contact LHS to pay by check or cash.
The Holiday Inn Express Indianapolis Downtown – Convention Center Area is located at 410 S Missouri St, Indianapolis 46225.
RTV6 Toy Drive – November 27 – December 1
If interested in contributing to our annual support of the RTV6 Toy Drive, please drop off new, unwrapped toys ($5–$10 value) in the LHS office this Monday–Friday.
Christmas Concert – December 10
The Music Department of Lutheran High School invites you to celebrate the season of Christmas at the annual Christmas Concert on Sunday, December 10. Please join us at 4:00 pm in LHS' Ruth Lilly Auditorium to hear the Choirs and Bands perform Christmas favorites that focus on the coming of Jesus. The concert is free and open to the public.
The Music Man Auditions – December 17
5th– 8th graders: Saints on Stage invite you to be a part of the Jr. Saints on Stage Program! 5th– 8th grade students will comprise the ensemble cast for The Music Man at Lutheran High School this February. Auditions will be held Sunday, December 17, 2:00–4:00 pm. Visit the Saints on Stage The Music Man web page (click here) for more details or email drama@lhsi.org with questions.
Community Events
Zion Youth Connection is sponsoring Breakfast with Santa on Saturday, December 2, 8:00–11:00 am. Find out more information and purchase tickets here.