Around School
The LHS Board of Directors Wallop
September 07, 2016
What is this "wallop"? To understand this is to understand the Board of Directors of Lutheran High School, and to read this article to the end. This group of professional men and women has taken a position to share their gifts in work, wisdom, wealth, witness, and wallop.
The current Board members, shown above, are:
(front, L to R) Anthony Watkins (VP of Finance), Lisa Hartzburg (President), Steve Vandivier (Vice President), Tim Frank (Secretary)
(back, L to R) Rev. Jeff Alexander, Jon Knoll, William Ayres, Steve Thompson
(not pictured) Jeff Huntington, Cindy Lukach, and Jenny Vance.
These elected members function as a policy-governing board. The important decisions that affect the mission and core values of our community are their focus. Each member trusts the administration, faculty, and staff as capable and competent. The board provides written policy that directs this administration, faculty, and staff to make decisions that are right for today and also right for the sustainable focus and future of LHS.
In a February 2016 publication called "Growing in Governing", the LCMS church encourages school boards to govern the activities of a school with intentional policies that direct leaders, teachers, and families of a school ministry and mission. But to effectively govern, effective board of directors should consist of members who provide for five things: work, wisdom, wealth, witness and wallop.
WORK – Board members must prepare for each meeting by reading the documents received in advance. Members must be ready to use individual skills and talents when events occur for the benefit of the school.
WISDOM – Through policy-governance, members help formulate and monitor wise policies. They ask great questions when meeting as a board. They have the ability to analyze complex issues. They are able to sift through lots of information and make great decisions on behalf of the organization.
WEALTH – When the school seeks a commitment for a major campaign or fund raising event, it is important that every member of the governing board is a donor of record. As a volunteer, a board member goes beyond "easy giving" to being a model of "sacrificial giving."
WITNESS – In a Lutheran School, board members must help integrate Lutheran doctrine and beliefs with practices as they set policies. In their volunteer role, board members must talk up the school as they go about their normal work and life. Great board members look for opportunities to make the school known in their community.
WALLOP – Finally the board should consist of people who will bring their professional knowledge and experience to bear on the work of the board in ways only they can do. This is the final wallop or "punch" that is needed for an ideal board of directors. Having a balance of professional experience, community perspective, family knowledge, with Christian commitment is the great wallop that ensures that the decisions today will be the best for tomorrow.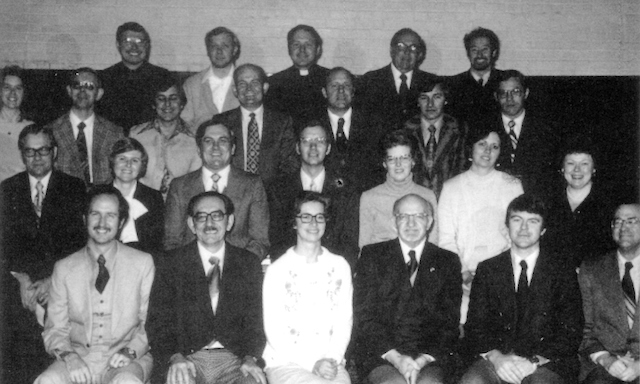 The Lutheran High School community should be thankful for the leadership of our Board of Directors. This leadership has been a vital element in the success of the past 40 years. May God continue to bless the next 40 years with committed members who give work, wisdom, wealth, witness, and wallop to advance the mission of the SAINTS.