Around School
Chapel Speaker – Kathy Anderson
September 23, 2016
Mrs. Kathy Anderson (LHS 1993), LHS volleyball head coach, was guest speaker at the September 13 Heritage Chapel. Senior Abbi Ratliff writes: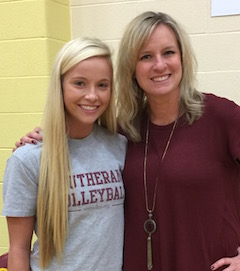 "For the chapel service on September 13, Kathy Anderson emphasized how we are all like shells.
Even though shells can have cracks, ridges, and imperfections, if you bring all the shells together they make a beautiful combination just like God's children of the world.
It doesn't matter what we do or what imperfections we have, God will always forgive us and let us into His kingdom. Even though we may be imperfect, God sent His Son so that we could live and reign with Him forever."