Around School
Chapel Speaker – Luke Finchum
September 23, 2016
Special Heritage Chapel series speaker on September 22 was Mr. Luke Finchum (LHS 2001), teacher and Athletic Director at Zion Lutheran School. Senior Zach Sanders wrote: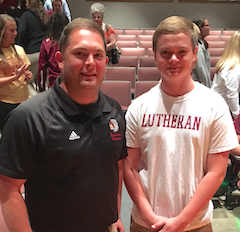 "This chapel was about Christians being certain about going to heaven.
There was a poll taken that said that out of the Christians that took the poll, 75% said that they believed in heaven and about 82% said that they believed that they were going to heaven.
Mr. Finchum said that to be sure that you are going to heaven that you must truly believe that Jesus died for our sins.
He mentioned a verse that had a lot of meaning with this sermon. Romans 6:23 "For the wages of sin is death, but the gift of God is eternal life in Christ Jesus our Lord." This verse means that if you die and don't believe in God then you truly die. It says that if you die and believe then you don't truly die because you have eternal life in heaven."