Around School
Chapel Speaker – Rev. Jeff Alexander
August 18, 2016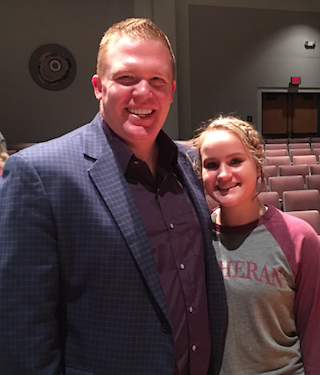 Rev. Jeff Alexander, pastor of Mount Olive Lutheran Church was guest speaker at Chapel on August 18. Senior Kristen Sprowl writes:
"Pastor Alexander had a sermon based on running the race of faith. You should never quit what you want to do. Always, count on God and you can do anything with Him in your life.
"Pastor Alexander used the Olympics as an example of those who never quit. He used a swimmer and a diver to show that when you try your hardest you can go far – as far as to the Olympics. Hebrews 12:1–3 was the verse that he used to show us how to never give up because with God we can always go far."
Chapel is held on Thursdays, 9:30–10:15 am. The August 25 chapel will be led by Rev. Seth Mierow, pastor of St. Peter's Lutheran Church.