Around School
Chapel Speaker – Rev. Raymond Smith
September 06, 2016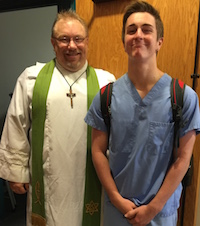 Rev. Raymond Smith (LHS 1986) , pastor of Emmaus Lutheran Church was guest preacher for the Heritage Chapel on September 1. Senior Walker Dotson writes:
"Pastor Smith talked about keeping our focus on Christ. He referenced Peter when he walked on water with Jesus. When Peter took his eyes off Jesus, he started sinking.
"Pastor told us that we should pray, read the Bible, anything to stay close to Christ. If we don't, we just get farther and farther away from Him."
During September, our chapel speakers are all LHS alumni. This Thursday, September 8, 9:30 am, Mr. Matt Riley (2004), principal of Trinity Lutheran School, will present our chapel message.
Next Tuesday, September 13, 9:30 am guest speaker will be Mrs. Kathy Anderson (1993), former LHS teacher.