Around School
Chapel Speaker – Rev. Seth Mierow
August 25, 2016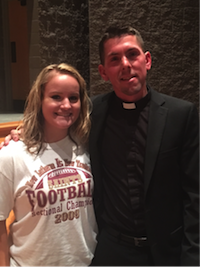 Rev. Seth Mierow, pastor of St. Peter's Lutheran Church spoke at Chapel on August 25. Senior Kristen Sprowl wrote:
"Pastor's sermon was about following the law of God. John the Baptist pointed his finger and preached the word of God. He preached so well and so often that even King Herod was convinced of his sins. He thought that Jesus was John reincarnated.
"God wants us to share His word so that many repent of their sins and believe so they will be welcomed into God's home. We sang many songs about asking for forgiveness and about Heaven. John the Baptist was beheaded while he was in prison. But, we know that he was saved by the word of God and is in Heaven."
Our next chapel service will be the special chapel celebrating the 40th anniversary of our first opening service on Monday, August 29, 2:00 pm. Rev. Dr. Victor J. Belton, pastor of Peace Lutheran Church, Decatur GA, will be guest preacher.
During September, our chapel speakers are all LHS alumni. Next Thursday, September 1, 9:30 am, Rev. Raymond Smith (LHS 1986), pastor of Emmaus Lutheran Church, will present our chapel message.