From the Head of School
College and Careers
December 21, 2017
For over 40 years now, Lutheran High School has been preparing students for college. In fact, since its beginning in 1976, an average of 95% of all LHS' graduates have taken the next step into higher learning or college in pursuit of a defined career path. That same college and career minded attitude in students has been a common place in our community as we again prepare the next class of 2018 for their turn at realizing a planned path.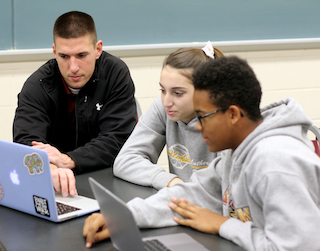 This intentional movement of transforming young 14-year-old, dependent, and wide-eyed freshmen into mature, independent, and college ready adults happens in four short years. It is not by chance that this occurs but by intentional conversation, support, and developmental influences that move a student toward college and career success.
Today there is a lot of excitement at Lutheran High School because of eight NEW efforts put in place to impact all students in college and career pathway.
New Freshmen College and Careers course – This one semester course introduces the vast array of college and career pathways for students to start identifying their own personal path.
New Freshmen PSAT – The PSAT 9 helps students determine what they need to work on most so that they're ready for college when they graduate from high school—and it supports educators as they guide the way.
New Sophomore college and careers workshop – Intended to help 10th grade students draw upon identified strengths and skills to help shape their college and career path. TBA
New Junior college visit field trip – Students will get a jump on college visits with this early year field trip and potentially first college visit experience to a couple of local colleges.
New College Tours resource – A guide that includes questions, tips, and tools for use during college visits.
New School-wide departmental College and Careers month – Each academic department will have a turn, or month, to give attention to colleges and careers that specifically highlight their curricular content.
New In-house SAT – Starting in January of 2018, students will now have the opportunity to take the SAT at LHS. The test, important in college entrance and scholarship applications, requires a great deal of preparation and concentration. There is not a better place to take this test than at LHS.
New Ruth Lilly Distinguished Speaker Series – The spring will bring our first of several speakers to the students of LHS. Leaders from area cities and our state will have the opportunity to motivate and engage with our students concerning their life goals.