Around School
Saints on Stage present "Alice in Wonderland"
September 15, 2017
Plunge down the rabbit hole with Alice and join the Saints on Stage for a madcap and deliciously satiric series of adventures! Alice in Wonderland will be presented in the Ruth Lilly Auditorium, Thursday, Saturday, and Sunday, October 5, 7, and 8, 2017. Performance times are 7:00 on Thursday and Saturday and 3:00 on Sunday. Adult tickets are $10, Pre-K–12 students and seniors 65+ are $5. Tickets are available by visiting the school website, lhsi.org, or at the door of each performance.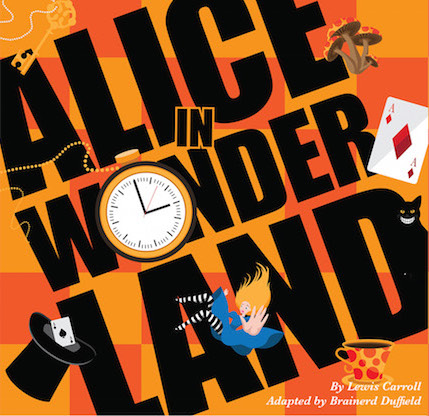 Alice features 14 Lutheran High School students on stage as well as almost a dozen working behind the scenes. This particular adaptation of Lewis Carroll's much acclaimed and performed tale is very true to his original iconic story as well as its sequel Through the Looking Glass. Audiences of all ages will be thrilled and puzzled when they meet the White Rabbit, Cheshire Cat, the Duchess, the Mad Hatter and March Hare, Tweedle Dee and Tweedle Dum, as well as the dreaded Queen of Hearts. This kaleidoscope of action, madness, frustration, and suspense takes the audience along with Alice on adventure they won't soon forget!
The production incorporates many returning students who have previously appeared in Saints on Stage productions, including: Junior Mollie Graham as Alice (Cinderella, Our Town, HONK!), Junior Gretchen Erdmann as the Queen of Hearts (Play ON!, Cinderella, Our Town, HONK!), Senior Ben Chapman plays the Mad Hatter (Story Theatre, Beauty & the Beast, Play ON!, Cinderella, Our Town, HONK!), and Junior Zack Murphy as TweedleDum and the King of Hearts (Cinderella, Our Town, HONK!). Newcomer, Freshman Caleb Johnson, portrays Tweedle Dee and the March Hare.
The 2017-2018 Saints on Stage Season is presented by Meyer Financial Strategies, Dennis and Kathy Meyer. Join us February 23, 24, and 25, 2018 for Meredith Wilson's American Musical Classic, The Music Man.