Student News
March 13, 2018
Congratulations to our Academic Super Bowl team! They won the Indiana Crossroads Conference Academic Super Bowl Invitational held at Park Tudor on Tuesday, March 6.
Competing against Beech Grove, Cardinal Ritter, Speedway, Scecina, and Triton Central, both our English and Science teams took first place in their rounds. Science had 23 correct answers out of 25, with the next two teams tied at 18/23!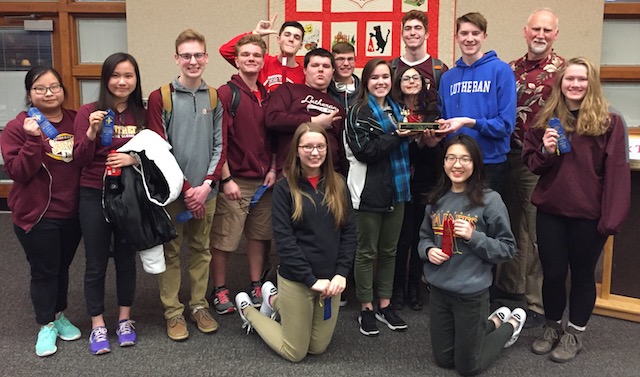 Members of the team include Nhi Tran, Christina Nguyen, Nik Jeffries, Matt Holm, Ben Chapman, Jadon Brutcher, Parker Barnett, Christian Lewis, Shelby Hedges, Payton Bowling, Zach Murphy, Katie Reid, Gretchen Erdmann, and Alisha Zhang. Mr. Jeff Steinbronn, LHS physics and chemistry teacher, coaches the team. (Not pictured: Ava DuBois, Janessa Schaefer, Andrew Williamson, and Ricardo Xu.)
The team will compete in the Ben Davis Invitational on Thursday, March 15, and in the Area Competition at Beech Grove on Tuesday, April 17.
Recent Posts