From the Head of School
Welcome, Bill Ayres
October 20, 2016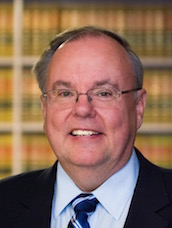 The administration of Lutheran High School has appointed Bill Ayres as Chief Development Officer.
Bill Ayres is a familiar name to many who have been in the LHS community for a number of years. Bill and his wife Linda have five children – Jennifer (Fox), Brian, Brad, Sarah (Bricker), and Samantha. Both Sarah and Samantha graduated from LHS in 2005 and 2014, respectively.
Bill recently has been active as a member and past president of the LHS Board of Directors, a volunteer in soliciting corporate sponsors for the annual dinner auction called LuFest, an organizational leader for past phone-a-thons, a contributing member of several capital campaigns, and is a member of Trinity Lutheran Church.
Bill's long history of serving our Lutheran High School is driven by a passion that has its roots in his own alma mater, Concordia Lutheran High School, Fort Wayne, Indiana. Bill remembers the Christian community, the challenge, and the life changing experience, which prepared him for a Christian life of family, career, and contribution.
Bill received his bachelor degree in Business and Marketing from Ball State and was awarded Doctor of Jurisprudence from Indiana University School of Law. 
Bill recently retired from his position as Attorney at Law, Partner, and President of Ayres Carr & Sullivan, P.C.
"We are truly blessed to receive Bill Ayres into our family as a Saints staff member. I thank the Lord for His great gift of Bill to our high school and community. He is kind, compassionate, and excited about the mission of LHS. I know Bill will take no time at all in gathering the supports needed to advance the mission for the students and families of this great school, " says Michael Brandt, Head of School.