Class of 2023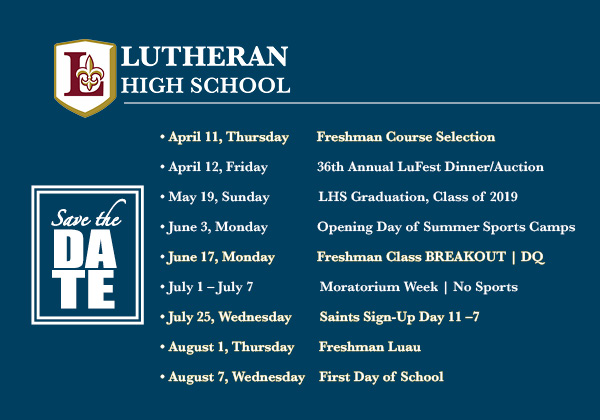 Welcome Class of 2023!
We are so excited to welcome you to Lutheran High School. Feel free to visit here anytime you have questions or want some inspiration!
CHECKLIST:
___ Complete Application
___ Complete Interview with Mrs. Barnett and/or Mr. Brandt
___ Complete Online Enrollment
___ If applicable, complete Financial Aid request
___ Select your classes (Course Selection Night is April 11, 2019 at 6:30 pm in the Commons)
___ Create an email address for you to use at school (preferably gmail)
___ Get your annual Physical from your doctor to participate in athletics
___ Submit your immunization records to the school office
ANNOUNCEMENTS
February 15, 2019
If you want to get a head start on some good looking SaintsWear, take a look a this link to shop our Track & Field clothing sale. Please note that tank tops, athletic shorts, and leggings are not approved to wear at school. All of the sweatshirts and t-shirts are fine though. Feel free to contact Mrs. Barnett if you have specific questions.
February 15, 2019
Mark you calendars for Thursday April 11, 2019! We will be meeting for the first time as a class to select courses for your freshman year! We'll start at 6:30 in the Commons. Please schedule at least 90 minutes or more for this event. It's a fun night and we'll end it with some ice cream! Please contact Deidre Barnett if you're unable to attend.