2019 State Championship Info
JOIN THE EXCITEMENT!
The Saints Football team will be competing for the State 1A Title at Lucas Oil Stadium on Friday, November 29, 2019, 12:00 Noon.
Game Details:
Friday, November 29 | 12:00 PM
Lucas Oil Stadium, 500 S. Capitol Ave.
Saints will be the "HOME" team
Ticket Information:
Tickets are $15 each (all people 6 years and older will need a ticket to enter)

Purchase at LHS Office

Tuesday – 7:30 am – 8:00 pm
Or purchase at the gate
Admission:
Gates will open at 11:00AM.
All seats are general admission.
The east and west gates will be open on Friday and the north and south gates will be closed. (The west gate is located behind the Saints sideline.)
Bags will be checked by security at the gate, but clear "Colts" bags are not needed.
Parking available on-site, managed by parking attendants
Television:
All six state championship games will air live on Fox Sports Indiana (1A, 3A, 5A on Friday | 2A, 4A, 6A on Saturday)
Webstream:
For viewers outside the Fox Sports Indiana coverage area, a live stream will be available at www.IHSAAtv.org. For those within the FSI coverage area, the stream will be available only on delayed basis following the conclusion of the telecast.
Radio:
Each game will be broadcast on affiliates of the IHSAA Champions Network.
If you bought a gold "GO SAINTS!" shirt, plan to wear that. Otherwise, wear your favorite Gold or Maroon Saints shirts!
LET'S GO SAINTS! #WHATEVERITTAKES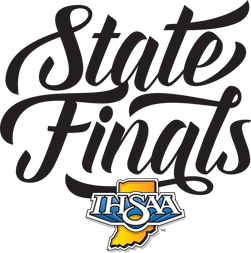 Click here to see the IHSAA State Finals program
Restrictions

1. Banners and posters are not allowed.
2. No battery powered or electronic noise-makers, fireworks, recorded music, sirens or whistles are allowed.
3. Throwing of articles, including toilet tissue and baby powder, is not allowed.
4. No live animal mascots are permitted at anytime.