SEUSSICAL: The Musical
Saints on Stage Present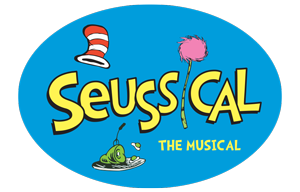 Performances: February 28, 29, March 1, 2020
Auditions: December 9, 10, 11, 2019
Directed by Matthew T. Frick
Music Direction by Levi Burke
The Ruth Lilly Auditorium
Lutheran High School of Indianapolis
IMPORTANT DATES:
CALLOUT MEETING: December 2nd, 3:30pm
AUDITIONS: December 10th & 11th, 3:30-5:30pm (all auditioning must attend ONE)
CALLBACKS: December 12th, 3:30-7:00pm (most auditionees)
SING-THROUGH: December 15th 1:00-4:00pm (All Cast)
Show Information
Oh the thinks you can think! SEUSSICAL combines the characters and stories of 15 beloved Dr. Seuss books. Follow Horton as he hears a Who named JoJo, hatches the egg, teaches all the creatures in the Jungle of Nool that he is not the biggest blame fool, and that a person's a person, no matter how small.
Now one of the most performed shows in America, Seussical is a fantastical, magical, musical extravaganza! Tony winners, Lynn Ahrens and Stephen Flaherty (Lucky Stiff, My Favorite Year, Once on This Island, Ragtime), have lovingly brought to life all of our favorite Dr. Seuss characters, including Horton the Elephant, The Cat in the Hat, Gertrude McFuzz, Lazy Mayzie and a little boy with a big imagination – Jojo. The colorful characters transport us from the Jungle of Nool to the Circus McGurkus to the invisible world of the Whos.
The Cat in the Hat tells the story of Horton, an elephant who discovers a speck of dust that contains the Whos, including Jojo, a Who child sent off to military school for thinking too many "thinks." Horton faces a double challenge: not only must he protect the Whos from a world of naysayers and dangers, but he must guard an abandoned egg, left in his care by the irresponsible Mayzie La Bird. Although Horton faces ridicule, danger, kidnapping and a trial, the intrepid Gertrude McFuzz never loses faith in him. Ultimately, the powers of friendship, loyalty, family and community are challenged and emerge triumphant.
SEUSSICAL is fun for the whole family!
CAST:
THE CAT IN THE HAT: Our host and MC, the essence imagination and master of mischief. THE CAT stirs up trouble, but also helps the characters set things right again. THE CAT must be physically adept and able to interact and improvise with the audience, and appear as a cameo in a number of scenes as a variety of different personas. May be played by a male or female.
JOJO: a great thinker, a smart child with a wild imagination. Sometimes his thinks get him in trouble, including being a loner and sent to military school. By the end of the show he learns how to use the possibility of his thinks to be a responsible citizen of the world.
HORTON, THE ELEPHANT: a gentle giant with a big heart. He is very un-self-aware, but imaginative and receptive to the world around him. Despite his challenges, he never stops believing in the goodness of others and the world.
GERTRUDE MCFUZZ: Self-conscious neighbor to Horton who goes from being shy and introverted to powerful and confident. She is enamored with Horton and will stop at nothing to get his attention.
MAYZIE LABIRD: Selfish, self-centered, flashy and flamboyant. She manipulates anyone she can (especially HORTON) into doing her bidding.
SOUR KANGAROO: Really not that sour at all, just sassy, brassy and full of fun and attitude.
GENERAL GENGHIS KHAN SCHMITZ: Runs the military academy where JOJO is sent. Proud of his attempts to make the world a better place by doing the right thing for the boys in his academy.
WICKERSHAM BROTHERS: Kid-like monkeys who enjoy playing pranks and causing trouble. They get a kick out of making mischief, often at their own expense.
MR. & MRS. MAYOR: Of Whoville, JOJO's parents who are trying to do right by him, and the WHOs.
THE WHOS: They're a lot like you and me... only smaller.
JUNGLE ANIMALS: Real people at heart, even with their animal personas.
NOTE: Many other SEUSS characters not mentioned above will be represented among the WHOS and the Jungle Animals (The Lorax, The Grinch, Thing 1 and Thing 2, Yertle the Turtle, etc)
Music by Stephen Flaherty. Lyrics by Lynn Ahrens. Co-conceived by Stephen Flaherty, Lynn Ahrens, and Eric Idle. Based on the works of Dr. Seuss.
SEUSSICAL: The Musical is presented through special arrangement with MUSIC THEATRE INTERNATIONAL, New York, NY. All rehearsal and performance materials are also supplied by MTI. www.mtishows.com