Saints on Stage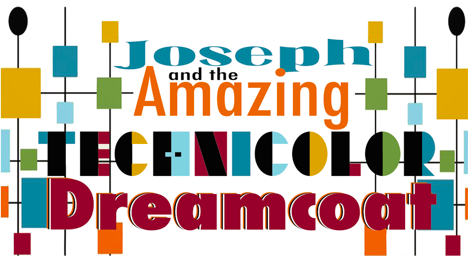 JOSEPH and the Amazing Technicolor Dreamcoat
Music by Andrew Lloyd Weber. Lyrics by Tim Rice.
Directed by Matthew T. Frick
Music Direction by Levi Burke
JOSEPH AND THE AMAZING TECHNICOLOR DREAMCOAT is presented by arrangement with Concord Theatricals on behalf of The Really Useful Group. www.concordtheatricals.com
The 2020-2021 Saints on Stage Season is generously presented by
Meyer Financial Strategies, Dennis and Kathy Meyer.
Gold Show Sponsors:
Indiana Farm Bureau Insurance--Mark and Amy Miske
Ken and Joan Peterson
Maroon Show Sponsors:
Envoy Real Estate, Matthew Mielke
Tony and Teresa Putty
JOSEPH Cast List

Click Here for Participation Form (must be signed and returned)
One of the most enduring shows of all time, Joseph and the Amazing Technicolor Dreamcoat is a re-imagining of the Biblical story of Joseph, his father Jacob, eleven brothers and the coat of many colors.

Told entirely through song with the help of a main character Narrator, the musical follows preferred son Joseph. After being sold into slavery by his brothers, he ingratiates himself with Egyptian noble Potiphar, but ends up in jail after refusing the amorous advances of Potiphar's wife. While imprisoned, Joseph discovers his ability to interpret dreams, and he soon finds himself in front of the mighty but troubled, Elvis-inspired, Pharaoh. Joseph's solution to Egypt's famine elevates him to Pharaoh's right-hand man and reunites him with his family.

The magical musical is full of catchy songs in a variety of styles, from a parody of French ballads ("Those Canaan Days"), to country-western ("One More Angel in Heaven") and calypso ("Benjamin Calypso"), along with the unforgettable classics "Any Dream Will Do" and "Close Every Door."

Charlotte's Web
October 1, 3, 4 2020
To purchase tickets, click the link at the left.
Based on the beloved novel by E.B. White. Adapted for the stage by Joseph Robinette.
Produced by special arrangement with THE DRAMATIC PUBLISHING COMPANY of Woodstock, IL.
In 1952, the world was introduced to a story of a girl, a spider, some farm animals, and their humans who rallied together to save a little runt pig. Through their journey we experience their loyalty, unexpected friendships, and growing up. This stage presentation of the children's literature classic is sure to delight audiences young and old.
The 2020-2021 Saints on Stage Season
is generously presented by
Meyer Financial Strategies, Dennis & Kathy Meyer.