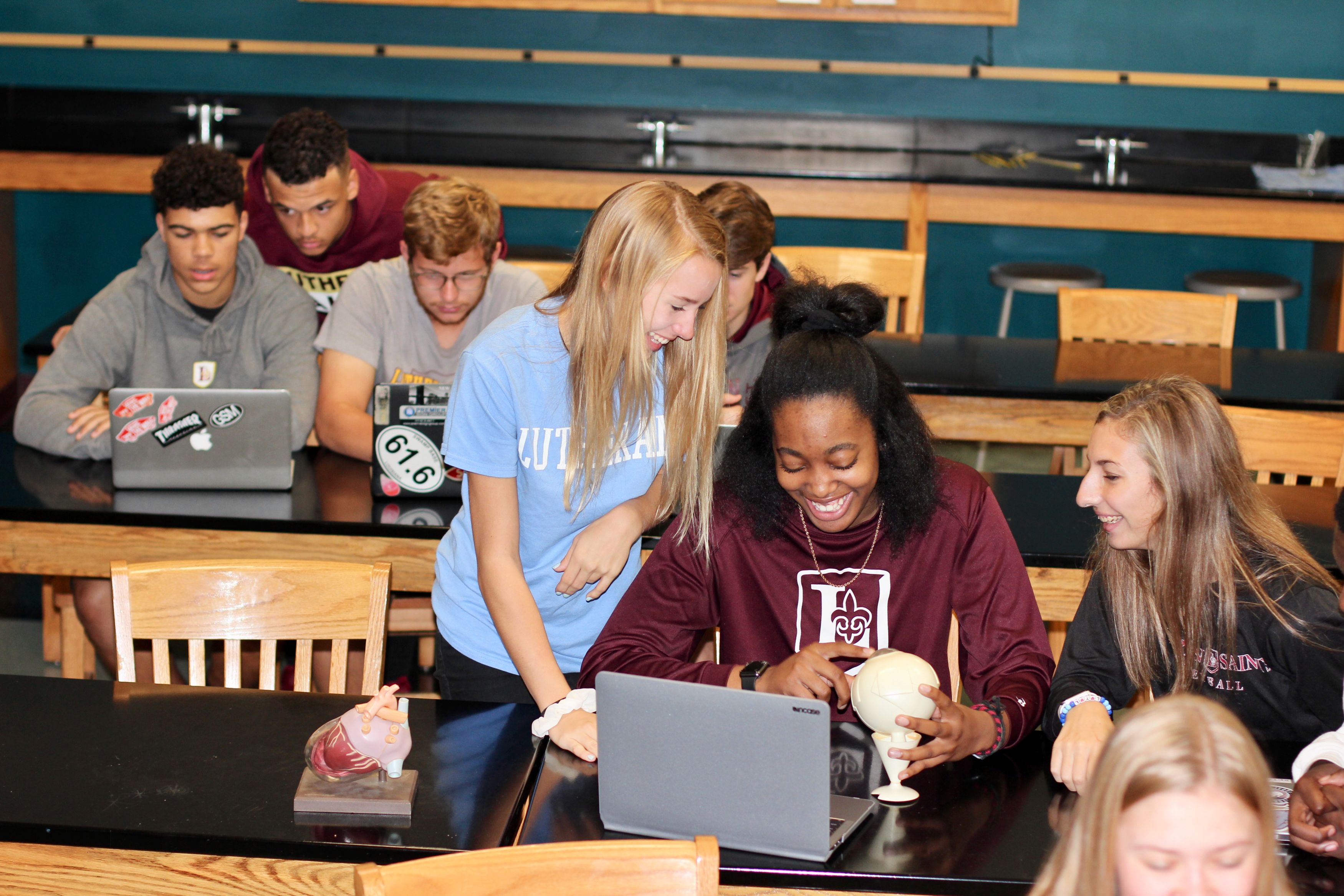 Lutheran High School offers a rigorous college preparatory curriculum focusing on academic excellence and spiritual development. Faculty and staff are committed to biblical integration of the subject matter, while also investing in the discipleship of students. Many teachers are involved in extracurricular activities, impacting students' lives beyond the classroom. Graduates of Lutheran High School are well-prepared academically and spiritually to serve and lead after high school.
Our Guidance Counselor, Ms. Cindy Brock, will provide individual attention to each student, ensuring that they have the credits necessary to achieve the degree the student seeks. Our faculty is available after school most days, as well as for scheduled family conferences when desired. We are eager to work together with families to provide a one-of-a-kind support system for our students.
---
A note from the Dean of Curriculum
Throughout the nearly fifty-year history of our school, the mission of Lutheran High School has always been to prepare young adults for Christian life while providing academic excellence in a Christ-centered environment.
How does Lutheran High School provide this academic excellence? Our curriculum is designed to promote readiness for the world beyond: college readiness, vocational readiness and spiritual readiness. Our aim is to arm students with the knowledge and skills to become lifelong learners, effective citizens, productive workers and members of the Body of Christ.
Students attending Lutheran High School can expect a digitally-enriched 1:1 environment where every student is given an Apple MacBook laptop to interface with course content and engage in 21st century learning. Our experienced staff of educators blends 21st century skills – critical thinking, collaboration, communication and innovation – with a traditional high school curriculum centered around reading, writing, mathematics, science, technology, government, history, world languages, physical education, theology and fine arts.
In addition to offering courses that fulfill the requirements of an Indiana high school diploma, we also offer courses that can earn college credits for students who work diligently and perform at a level of post-secondary excellence. We offer four AP courses:
AP Biology
AP Calculus
AP Music Theory
AP United States History.
Additionally, we offer six dual-credit college courses through the Advanced College Project at Indiana University:
Chemistry C101/102 – Elementary Chemistry 1 (5 credits)
English W131 – Reading, Writing and Inquiry (3 credits)
English L202 – Literary Interpretation (3 credits)
Physics P221 – Physics 1 (5 credits)
Spanish S200 – Intermediate Spanish (6 credits)
Speech P155 – Public Oral Communication (3 credits)
Find out more about options and enrollment:
Please take a few moments to peruse our curriculum. We continually strive to make improvements that better serve our students and families and to provide rigorous coursework to make our students competitive in the global workforce.
Eric Vincent
Dean of Curriculum and Instruction
---
Academic Highlights
Lutheran High School is an academically challenging, college preparatory school with a sound reputation for producing high-achieving students. We were estabished in 1976 and enrollment is typically approximately 250 students in grades 9 through 12. Lutheran High School is fully accredited by the North Central Association of Colleges and High Schools, the Indiana Department of Education, and the Lutheran Church—Missouri Synod.
LHS has a 100% graduation rate, with more than 90% of graduates attending a university after graduation. The majority of students earn college credits while at Lutheran High School, far outpacing the public schools in SAT, ACT, and other standardized test scores.
College Credits offered from Indiana University
LHS offers many classes where college credit can be acquired. We offer both AP (Advanced Placement) classes as well as ACP (dual-credit) classes with credit from Indiana University. Credits earned here can be transferred to universities in the USA and abroad.