Choice Scholarship Information
Indiana's Choice Scholarship (voucher) program (authorized under IC 20-51-1 and IC 20-51-4) gives Hoosier families the opportunity to send their children to a school that best meets their learning needs. A Choice Scholarship (voucher) is a state payment that qualifying families can use to offset tuition costs at participating schools. Students qualify based on total household income and 7 different possible pathways. The amount of the scholarship corresponds with the public school corporation in which the student lives. It is important to note that the Choice Scholarship typically ranges from $5,500 to $6,200 and therefore will not cover the entire cost it takes to educate a high school student.
Lutheran High School has participated in and accepted the Indiana Choice Scholarship since the 2011-2012 school year, providing all children with the opportunity for a quality education.
This link contains information from the Indiana Department of Education regarding the program:
---
CHOICE SCHOLARSHIP ELIGIBILITY REQUIREMENTS
Students may be eligible for an Indiana Choice Scholarship based on household income and meeting one of seven different tracks.
Household Income Limits for the 2023-2024 school year:
---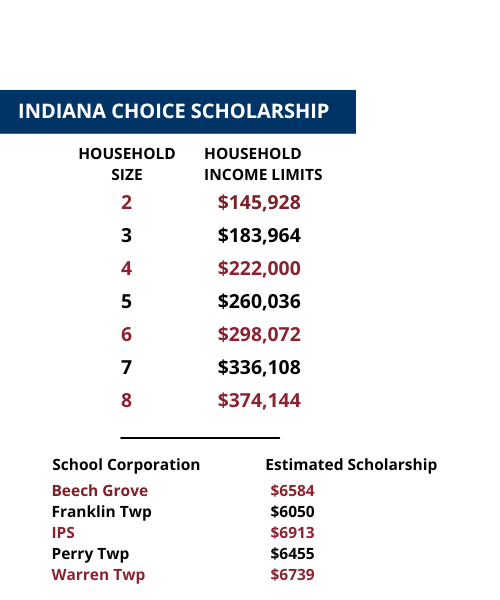 ---
APPLY FOR THE INDIANA CHOICE SCHOLARSHIP
Choice Scholarship Application
– PDF fillable
If you feel that your family meets the eligibility requirements and income qualifications, please be sure to indicate this on your application and contact us right away. Kelle Johnson, our Administrative Assistant, will help determine whether you qualify for a Choice Scholarship and will help get the process started for you. You can call or email her anytime.