Announcements
Announcements and Events
November 23, 2016
NextStep Capital Campaign
The Saints athletic facilities are in dire need of attention. While our Saints football team advanced in the state tournament, the IHSAA would not allow our school to host the regional championship game because of poor field conditions and lack of sufficient seating. The Saints track team is no longer able to host track meets because of poor track surface conditions.
If we all join together, we will reach our goal of $1,100,000 by December 31, 2016. This will allow for us to schedule now the installation of the multi-purpose field and track during the summer of 2017, in time for the 2017–2018 season.

This new multi-purpose field and track will allow for over 1,600 students from the high school, our grade schools, and the Junior Saints football program to experience and develop the leadership and teamwork skills that arise from playing team sports.
You may make a secure online donation by clicking on the button below. Or send a check (place "NextStep" in the memo line) to Lutheran High School at 5555 S Arlington Ave, Indianapolis IN 46237.
Check out the video showing the current conditions and what could be here.
Christmas Concert and A Charlie Brown Christmas – December 10 & 11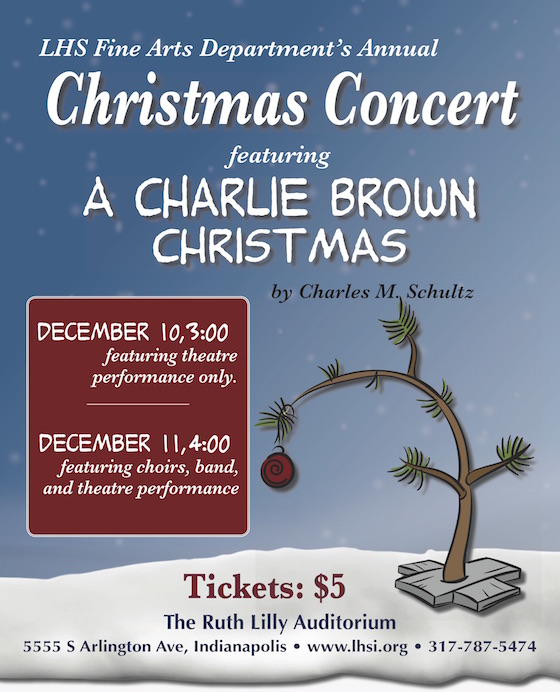 LHS fine arts students will present their annual Christmas concert on Sunday, December 11, 4:00 pm in the Ruth Lilly Auditorium. Chamber Choir, Vocal Ensemble, Band, and a special art gallery show will be presented.
In addition, Saints on Stage will present the stage adaptation of the classic television special A Charlie Brown Christmas. Join Charlie Brown and the rest of the Peanuts gang as they witness the wonder of God's Greatest Gift at Christmas. Tickets are $5 and available through the school office or at the door.
A special performance of A Charlie Brown Christmas by itself will be performed Saturday, December 10 at 3:00 pm.
Christmas Break Office Hours – December 22 - January 2
The LHS office will be open 9:00 am – 3:00 pm on December 22, 27–30; it will be closed on December 23, 26 and January 2. Regular hours (7:30 am – 4:30 pm) resume January 3.
Hosts sought for International Students
Are you interested in other countries and cultures? Have you met any of Lutheran High School's international students? Do you know we have students from China, Vietnam and England? Do you know there may be opportunites to host students from other countries too? Have you ever thought about getting involved? To find out more, contact Mrs. StClair at nstclair@lhsi.org.
LuFest 2017 – March 17, 2017
Our LuFest Team is looking for sponsors and donors for this year's LuFest which will take place on Friday March 17, 2017 at Crane Bay Event Center. Our Sponsorships start out at only $500. We also offer a Maroon Sponsorship for $1250 and a Gold Sponsorship for $2500. This is a great way for your employer or business to show support for Lutheran High School as well as gain exposure to attendees and supporters of our school. Please fill out the Sponsorship Form (download at lhsi.org or pick up in the LHS office) if you are open to being a part of our most fun, meaningful and impactful event yet!
We are also accepting new and exciting donations for our Live and Silent Auction. Our team is looking for new items like Apple watches, iPads, household items; date night experiences and group excursions such as the Brew Bus or Escape Room; gift baskets (Ultimate Tailgating, Dog Lovers baskets, Chocolate Lovers baskets, etc.); and destination weekend get-aways (to Cincinnati, Chicago, Louisville, St. Louis…) with event tickets for museums, sporting events, popular restaurants, shopping gift cards and more. If you are interested in leading a gift gathering party or organizing a class or group basket, please contact Michelle Bradbury at lufest2017@gmail.com. We greatly appreciate your interest in LuFest!
Support LHS on Black Friday and Cyber Monday

Community Events:
GriefShare Seminar at Mount Olive Lutheran – If you or a loved one is struggling through grief, please join the next GriefShare seminar! GriefShare is a friendly, caring group of people who will walk alongside you through one of life's most difficult experiences, offering support groups led by people who understand what you are going through and want to help. Seminar includes videos by experts in grieving, support group discussion and personal study/reflection. Questions or for more information, please contact the leader, Jean Dilts at 317-796-1089 or jdilts@mymetronet.net.
Recent Posts