Meet some of the Saints from LHS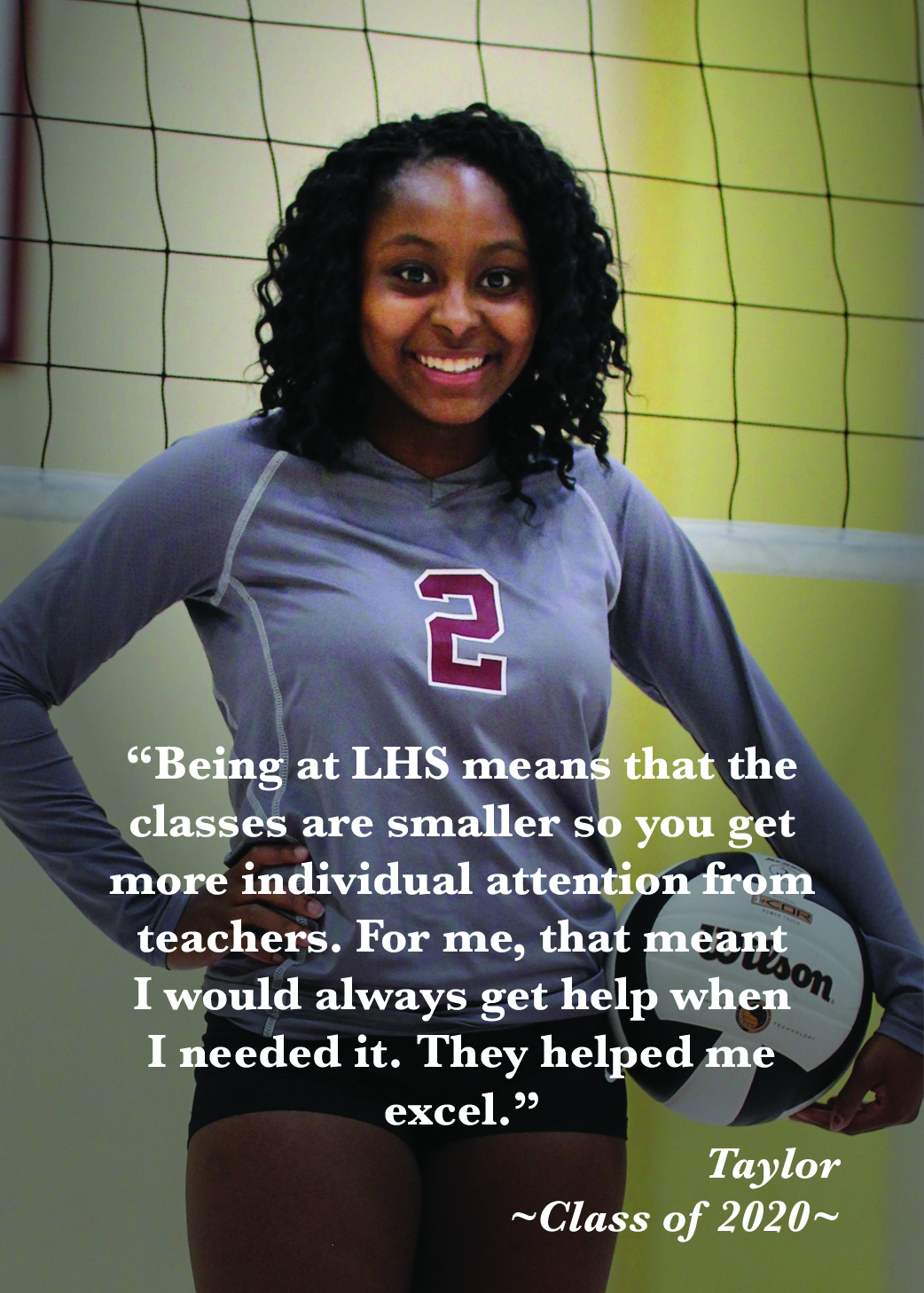 Meet Taylor. Taylor began her Lutheran School education early on at Calvary Lutheran School. Taylor and her mom have worked hard to achieve great success and opportunities throughout her time at Lutheran Schools. Taylor wanted to share some thoughts about her experience at Lutheran High School:
"I love Lutheran because of the multitude of activities that you can get involved in and how included you feel no matter what you do. Furthermore, I love the atmosphere that we create at every sports event. That type of energy can only be created at small schools and it leaves memories that last a lifetime.
Lutheran means a lot to me because it has basically been my home for the past 4 years. Being at Lutheran means that the classes are smaller, therefore you can get more one on one time with teachers. For me, that meant that I would always get help in class when I needed it.
Furthermore, working and being in small classes pushed me to be more outgoing and helped me excel. I have been able to attain a grade point average that allows me to apply for elite scholarships that will help offset the cost of college.
At Lutheran, I have been able to grow in my faith and understanding about Jesus Christ substantially. I have also become more comfortable sharing my faith as well. Academically, I have allowed myself to really embrace Lutheran's process in learning and I have found a lot of success. Sharing a lot of classes with some of the same people has allowed me to become better at working in teams, which has ultimately prepared me for college and the workforce.
Scholarships and Financial Aid have played a very vital role in me going to LHS. I would have gone to a public school surrounded by teachers and people who I didn't know and wouldn't have received the same help that Lutheran offered to me.
My advice to incoming students is to get involved in many things. Don't worry about making friends because they will come naturally. Furthermore, don't be afraid about coursework because the teachers at Lutheran do a good job of making sure that every kid is able to adjust from middle school to high school.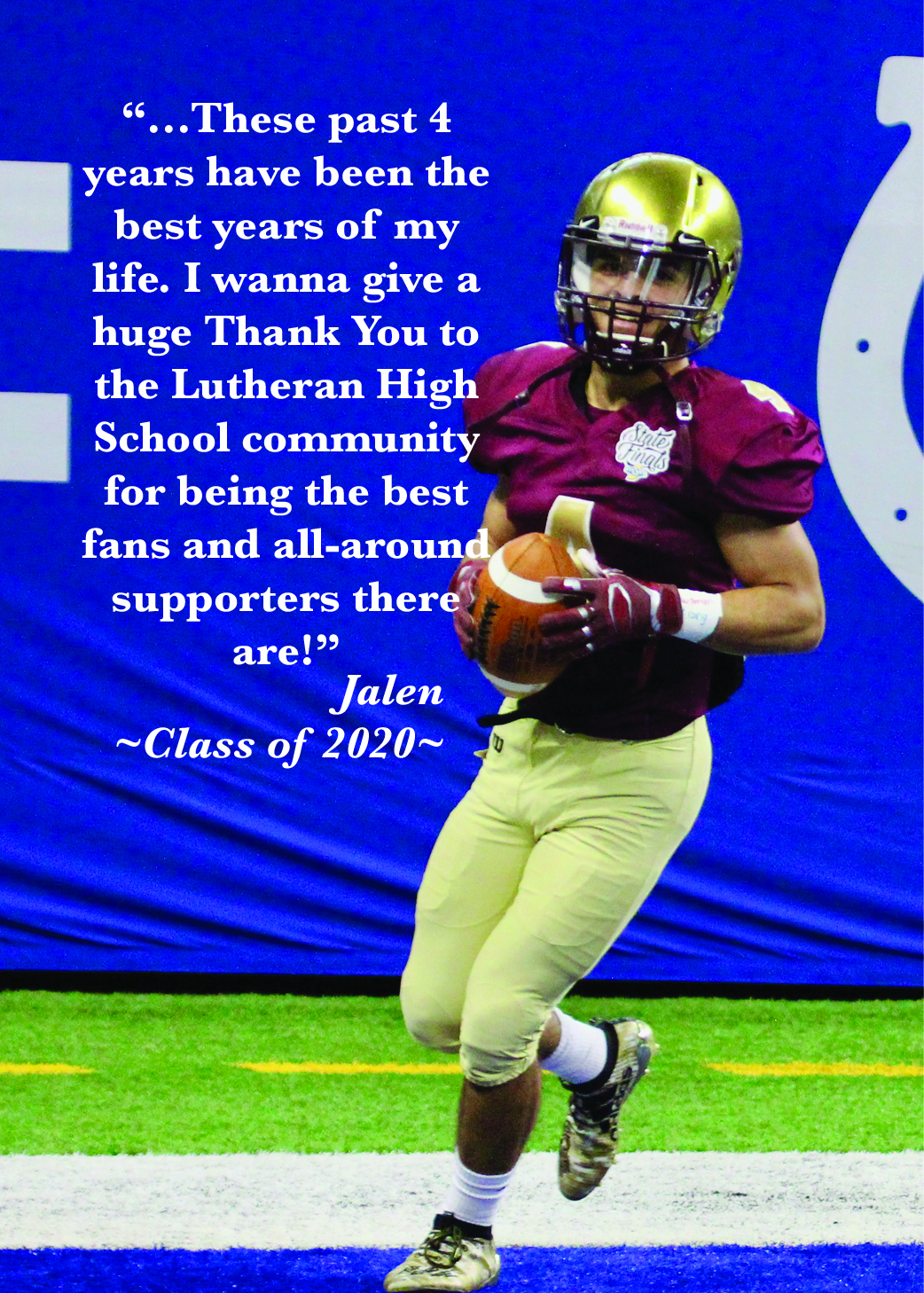 Meet the Elliott family. Jalen was new to private school beginning his freshman year.
"Our decision to come to Lutheran was solidified the day we had our visit. Everyone treated us with respect and like we were family and that won us over. Being in a small environment has been so instrumental in our son's development and that is what Lutheran provides. The teachers go above and beyond to help their students be successful without hesitation. I have never been to a place that has the same goal for everyone who acts upon that goal on a daily basis. When you walk through the halls it's quiet and everyone is where they are supposed to be, which is awesome to see. The students are respectful to adults and always treat each other with respect as well. As a family that stresses education above all, there was no better place to continue our son's education than Lutheran. The fact that their sports teams win at such a high rate is more a reflection on the effort that the coaches/teachers give into the students than the talent they have. Every Lutheran team fights to the end with a never-give-up attitude. That is a direct reflection of the environment that they are in at school. I would and endorse this high school to anyone willing to listen, as it has been the best decision possible for our family. I drop my son off at school every day knowing that he is in a place where everyone wants to help him succeed and it's a wonderful feeling!" [Jalen is now being offered college scholarships based on his performance on the field and in the classroom.]
~Pete and Misty Elliott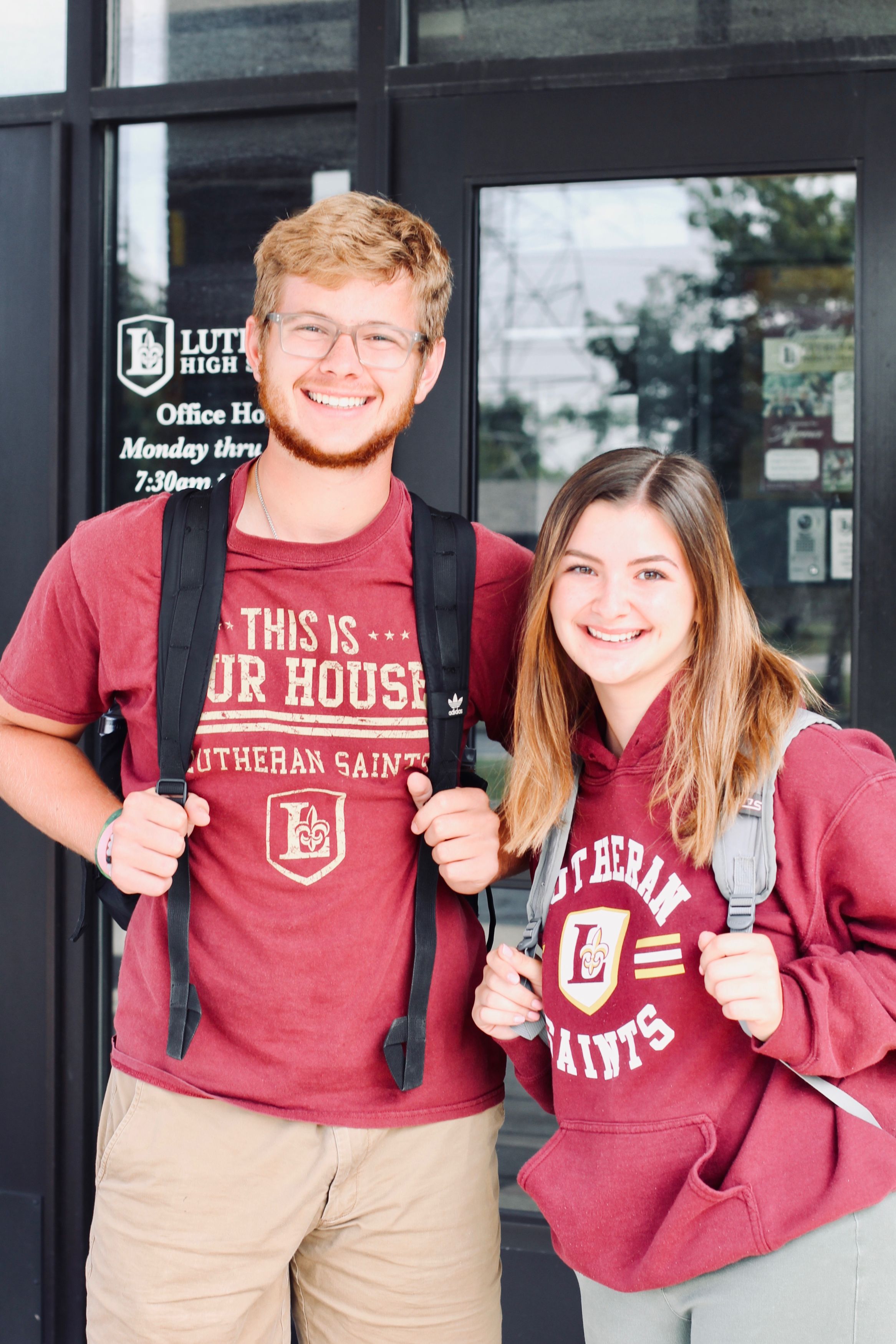 Meet Jonas and Sydney. They came from a large, public school setting, not knowing anyone at LHS prior to their arrival.
"I wanted my children to be in a learning environment that didn't leave the middle or top-performing students behind in order to focus on underperforming classmates. I was tired of feeling like my kids were missing out on educational opportunities because their teachers were dealing with behavior problems instead of academic pursuits. I wanted my kids in an environment where being smart is cool; where good manners are expected; and where high standards aren't compromised.
Lutheran High School promised they were going to equip our children to be good students, family members, responsible employees, and servants of Christ who would leave the school prepared to impact the world. Other schools didn't promise that. And with the help of LHS faculty, staff, coaches, other students, and families, both of my kids have met every one of those goals."
~Zach Akers and Karla Mueller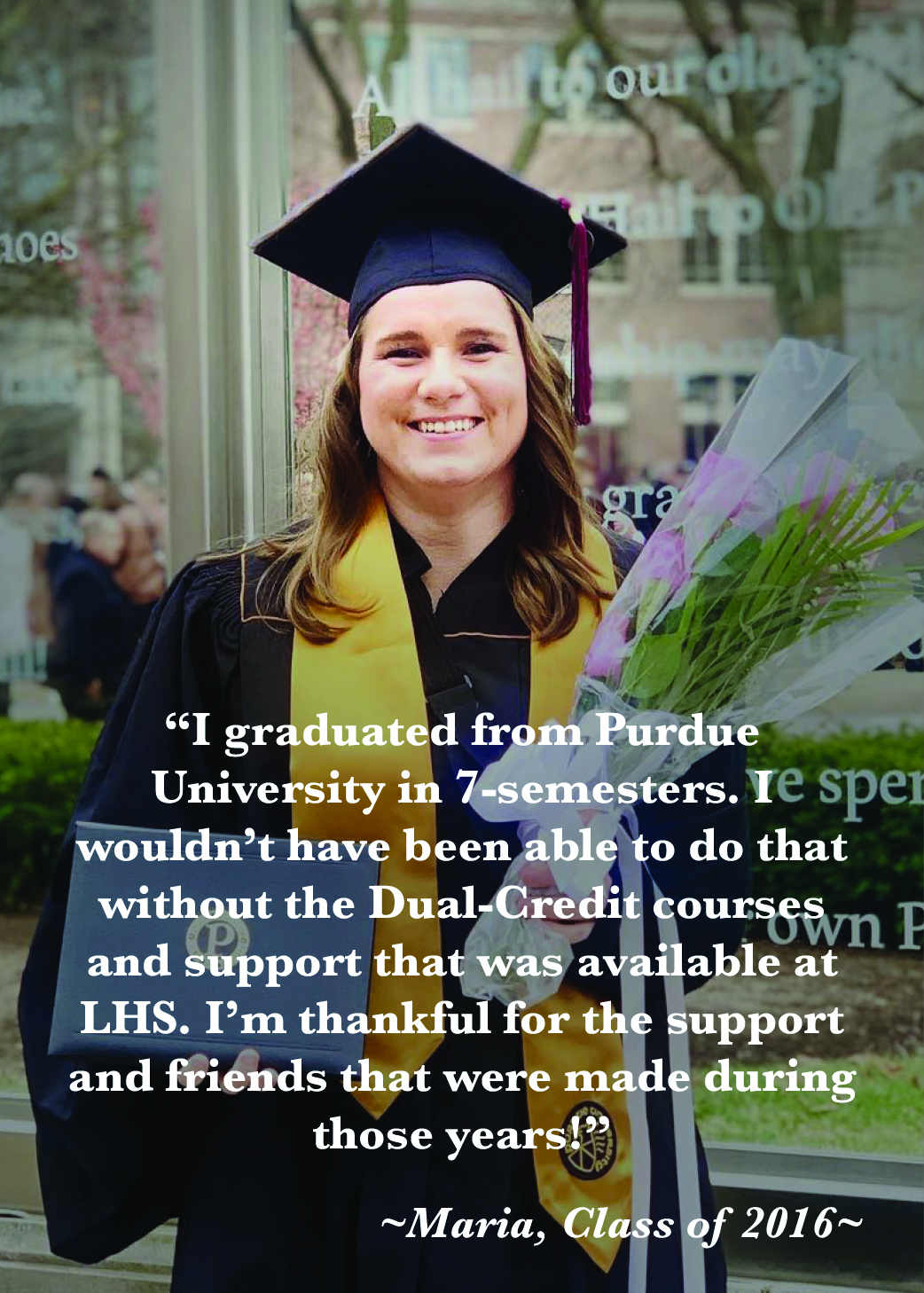 Meet Maria. Maria graduated from LHS in 2016 and from Purdue University in December 2019. Maria took full advantage of the academic opportunities available at LHS, including advanced classes and Dual-Credit classes. By completing college credits at Lutheran, she was able to graduate from college early in order to pursue her career dreams. This ended up being a huge savings of money and time. With the personal attention she received in her classes, she was well-prepared to further her education in the next level.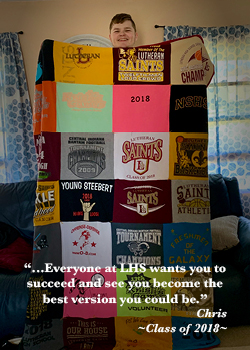 Meet Chris from the Class of 2018. Chris was an active student at LHS during his time here. He played football, was President of Student Council, and was an Admissions Ambassador.
"I loved how everyone wanted you to succeed and be the best version you could be. I loved the Christ-centered environment. Over my four years, it just helped me gain more confidence in myself and strengthened my love for Christ."
Chris is currently attending Franklin College, studying Applied Mathematics with a minor in Business. Chris's mom recently made him this awesome quilt out of his favorite Saints-Wear shirts. It's a gift he'll treasure forever.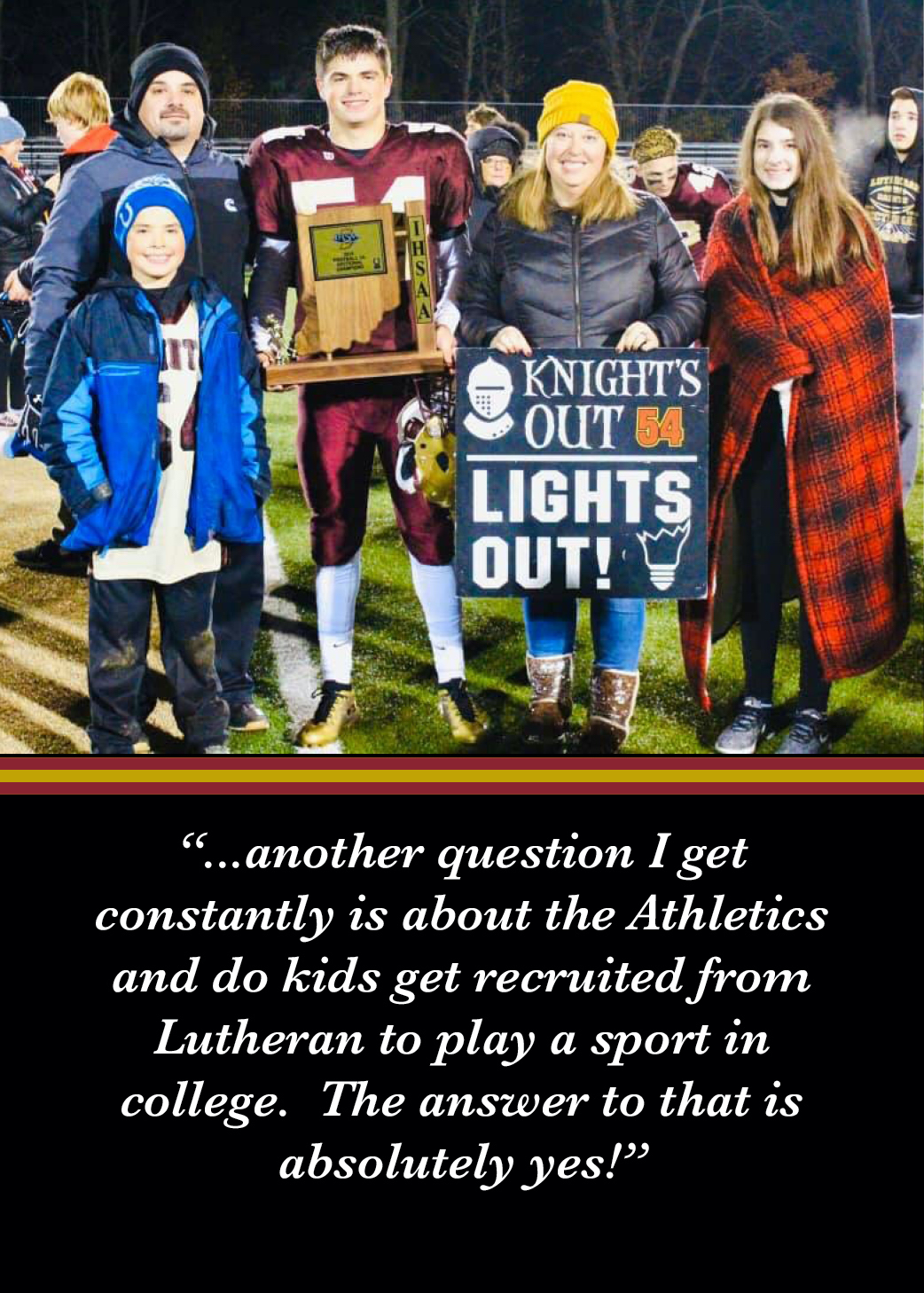 This is the Knight family. Peyton is a senior and Olivia is a freshman. Beth is an alum of LHS and this family is passionate about the culture, education, and opportunities available at Lutheran High School.
Jim shares some of his thoughts with us: "I grew up in large public schools from Kindergarten all the way through high school. The memories I have going to public schools are not great. I remember witnessing fights, being in fights myself, and other activities that should not happen in a learning environment. I was already down a bad path and could get worse. I know not all public schools are that way, but that is my experience. After high school, I went to a private Lutheran college, Concordia University Chicago. I had no prior experience with a private school setting."
"...Peyton wanted Lutheran High School and we did too. Peyton is a Senior now and I would not have sent him anywhere else. Lutheran High School is truly special. Having Peyton at Lutheran has affected me just as much as it has him. The teachers, students, coaches, and leadership at Lutheran are truly special. All the teachers know our kids' names and answer all their questions and just truly care about their well-being. Is it tight financially to have 2 kids at Lutheran High School at the same time? Yes, it is. But, it is worth every penny. The Christian leadership, academics, and athletics that Lutheran High School provides is truly excellent."
Peyton recently accepted a scholarship to play football and attend college at Eastern Michigan University.